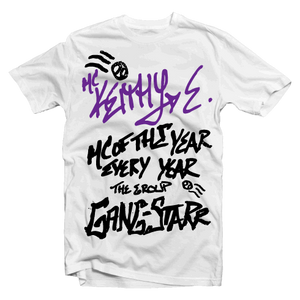 The phrase "MC Of The Year" is written on the cover of one of Guru's earlier demo tapes in the exact format on this t-shirt. In a 1986 interview with Boston's local DJ Magnus Johnstone (whom Guru pitched his first demo tape too) Guru explains that this year he is going after the title, MC Of The Year. "What I'm trying to do is get my raps circulated into companies and people with clout so I can get on the set and be MC Of The Year, listen clear!".
All shirts are printed on Al-Style Tees.
PRO CLUB Available by request and is subject to higher pricing. Email us at custom@theavelosangeles.com.
PRO CLUB are available by email request only and are subject to higher pricing.
Orders ship within 5 business days of being placed from Los Angeles, CA.  Satisfaction is guaranteed or we'll happily give you a refund for the shirts that you purchase, provided they aren't worn, and unwashed, and it is within 14 days of your order. All shipping costs are non-refundable. We are currently unable to offer exchanges.  Sizes 4X and up are available by request at additional cost; We ship worldwide. To calculate shipping enter shipping address at checkout and shipping options will appear before payment.
For the quickest response for any questions contact us at custom@theavelosangeles.com.