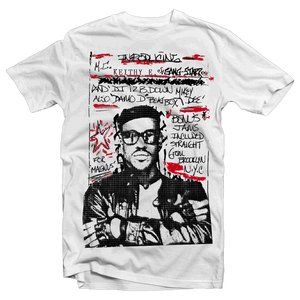 In 1986 MC Keithy E (now known as GURU) completed a demo tape that featured the early members of GangStarr; John Johnson (formerly known as Beatmaster Jay), DJ Mikey Dee and Damo D (Beat Box). This demo tape earned MC Keithy E and crew the right to be heard throughout Boston and set the stage for Guru's legacy. The cover of the demo tape was constructed by the hands of GURU.
 All shirts are printed on Al-Style Tees.
Orders ship within 3 - 5 business days of being placed from Los Angeles, CA.  Satisfaction is guaranteed or we'll happily give you a refund for the shirts that you purchase, provided they aren't worn, and unwashed, and it is within 14 days of your order. All shipping costs are non-refundable. We are currently unable to offer exchanges. We ship worldwide. To calculate shipping enter shipping address at checkout and shipping options will appear before payment.
For the quickest response for any questions contact us at custom@theavelosangeles.com.