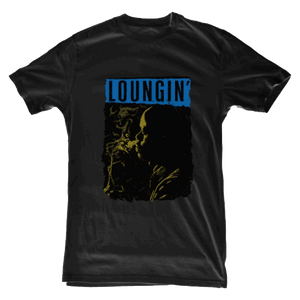 The X Label brings to you the Jazzmatazz Loungin T-shirt! This artwork beautifly combines the album cover of Guru's Jazzmatazz Vol 1. and the song "Loungin." "Loungin" is a single from the Jazzmatazz Vol 1. album featuring the gifted trumpeter Donald Byrd. *Comes in Black.                                 In 1993 Guru released Jazzmatazz Vol. 1. Guru decided to take music to new heights by utilizing the brilliance of actual jazz musicians to produce the sounds to rhyme too. He merges his potent and forever meaningfull rhymes with beats and instruments directly from authentic lounge jazz. The album fuses an assortment of jazz talents both old and new, including Donald Byrd, Lonnie Liston, Roy Ayers, Courtney Pine, Branford Marsalis , and Ronny Jordan.  He used the melodic voices of Carleen Anderson and N'Dea Davenport and collaborated with french rapper MC Solaar. The variety of guest artists adds diversity and originality to each track, and gives the album a distinct jazz feel. In its own right the album is a historical document of jazz and hip-hop starting to blend. 
All shirts are printed on Al-Style Tees.
PRO CLUB Available by request and is subject to higher pricing. Email us at custom@theavelosangeles.com.
Orders ship within 3 - 5 business days of being placed from Los Angeles, CA.  Satisfaction is guaranteed or we'll happily give you a refund for the shirts that you purchase, provided they aren't worn, and unwashed, and it is within 14 days of your order. All shipping costs are non-refundable. We are currently unable to offer exchanges. We ship worldwide. To calculate shipping enter shipping address at checkout and shipping options will appear before payment.
For the quickest response for any questions contact us at custom@theavelosangeles.com.